August 30th, 2009 by Emmie
In between working on my own art projects and content for Graphics Girl, I couldn't help but share these little (or in some cases, colossal) gems  with you guys.
Although sculpture isn't directly graphics-related, it's still a brilliant platform for expression, and one which a surprising amount of graphic designers draw inspiration from, particularly if they're looking to do work in the 3D design field.
I think it's becoming more and more widely accepted that to be a successful artist in this day and age, be it digital or traditional, experience and qualifications are not the deciding factor by any means, and a good case in point would be my first selection:
Damien Hirst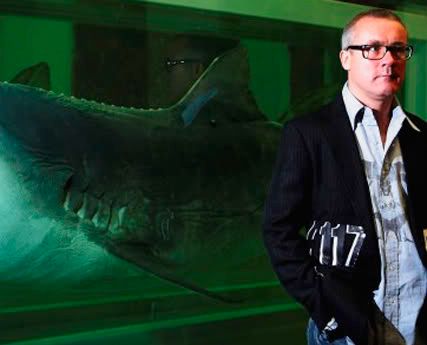 "It's amazing what you can achieve with an E in A level art and a chainsaw."
Love it or loathe it, Hirst's work has been subject to debate for a long time, and whilst some people, understandably, don't agree  that cutting a tiger shark in half and sticking it in a tank filled with formaldehyde necessarily 'counts' as art (which you can see a clearer shot of here), a fair amount of people seem to disagree with him, since he's now Britain's richest living artist, and some of his work has fetched up to $123 million at auction. Makes me wonder whether it's worth investing in a chainsaw of my own.
But from here on in it only gets stranger, so here's another 4 insanely brilliant 3D artists worth taking a look at…
Category: Reviews and Inspiration | 8 Comments »