About Me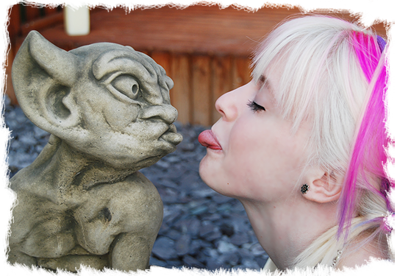 Hi! I'm Emmie Mckee and I'm an 18 year old girl from England with a passion for art, photography, graphics, and probably most notably, the colour pink.
I've been drawing since the age of 13 and am mostly self-taught, however, this does not stop me from having a broad understanding of Photoshop, Illustrator, InDesign, OpenCanvas, Inkscape, Flash and much more. In terms of qualifications, I have also achieved an A grade in A level Art Foundation.
I have worked closely with a number of Musicians to produce logos, graphics and album art, including: Shirobon and You And What Army? and have earned a significant amount of money by producing commissions for a variety of worldwide clients.
I've worked briefly for a graphics design firm, but am now freelance, and am open to work! Please feel free to e-mail me at graphicsgirl@gmail.com with any enquiries.
About graphicsgirl.co.uk
Graphics Girl was originally intended as an online portfolio for all my artistic endeavours, as well as a blog related to such things, though I'll also be posting the occassional tutorial for a whole range of software, including open source programmes, as well as free downloads!
I aim to update the blog roughly once a week (every Saturday), with either an explanation, a how-to guide, a tutorial or review of other interesting things happening in the art world that I feel deserves attention. I tend to write about the things I'm asked about most, so if you've got a burning (and relevant) question or topic that you want to know more about, why not suggest it to me at emmalouisemckee@gmail.com? 
From time to time, I'll also be including updates regarding my own art, and the odd time-lapse video to demonstrate my methods of work.
All posts are tagged for convenience, so if you can't find an article about something in particular, try using the search bar! You can also search by category by using the sidebar to the left.
Equipment
A list of any software or equipment used will usually be provided alongside any tutorials, however, I most commonly use the following programmes:
- Inkscape
- Open Canvas 3.0
- Adobe Illustrator
- Adobe Photoshop CS2/CS3
- Flash
As well as an optical mouse and Genius 2×5″ graphics tablet.