October 4th, 2009 by Emmie
Seeing as how I like to think that Graphics Girl can be an online portfolio as much as a place to help people out with their own work, I figured it was about time I filled you guys in on the photo-shoot I recently did for Rock/Rave/Rap band You And What Army.
Coincidentally, this is also the band that Dave from Boy in a Band, Kieran from Guy With a Guitar and Jamie from Boy With a Bass are in. Funny how things work out, huh?
I had a whole lot of fun with this project, mostly because it's giving me a chance to abuse overlay and screen layers in Photoshop and create something ridiculously epic and spacey looking. If there's one thing I'm sure of, it's that you can never have too many retina-burning laser effects.
Here's the first finished group shot: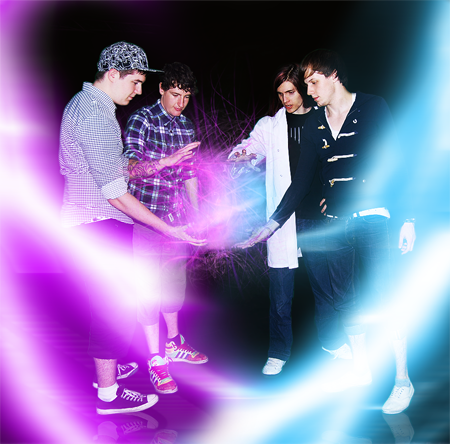 (Click it to see it in a higher resolution).
All of the photos were taken with a Nikon D40x SLR and edited (quite obviously) in Photoshop CS3.
Hopefully, I'll have finished with the rest of the shots soon! It's been a very busy week for me in terms of creative ventures so I've had to neglect the site a bit, for which I apologise. You guys can all look forward to more free resources and photoshop tutorials in the week to come, though!
This entry was posted on Sunday, October 4th, 2009 at 12:10 pm and is filed under Emmie's Own Work. You can follow any responses to this entry through the RSS 2.0 feed. You can leave a response, or trackback from your own site.